Welcome to Kirwan Complete Care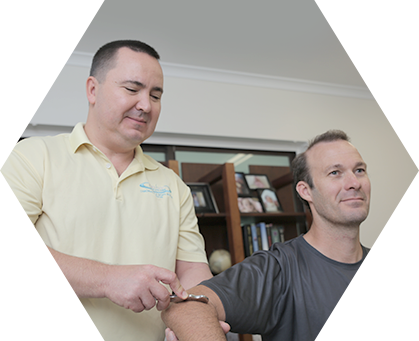 Kirwan Complete Care is conveniently located in Townsville, a suburb in the heart of Kirwan.
Our point of difference is that we actively care about you and this is reflected in our excellent client service. Whether you come to us with specific sports injuries, headaches, migraines, back and neck pain, shoulder and knee pain, or any other associated problems, our professional team will provide you with the highest quality of care to help you feel happy, healthy, and more active.
Our practice embraces a broad spectrum of health care, encompassing chiropractic, physiotherapy, general practitioner services, remedial and sports massage. Advice on diet and exercise are also some of the additional supportive services we offer. Our office setup has all the equipment required to do a thorough examination of your condition and manage the ongoing care plan required to meet your needs.
We treat a wide variety of patients within the Townsville community and surrounds, including infants, children, teenagers, adults, and the elderly. If you have an issue or health concern that requires further treatment from another field, then we can also provide referrals to other practitioners, creating a hassle-free experience for all.

How Can a Chiropractor Help You?
A good chiropractor will be able to assess your individual situation, your body's needs and affected areas, and put into action a care plan that will help you gain greater mobility and flexibility. We assess your musculoskeletal and nervous systems to gather information about any problems that may be present, and then come up with a plan to get everything back on track.
As an Australian-trained Chiropractor, with a European Master's degree in Physiotherapy also, Dr Paul Klich has a thorough understanding of the way the body moves and works. He uses solid, research-backed methods to keep your body active and pain-free for longer.
With your medical history, a thorough examination and x-rays when required, we can give you a full picture of where your health is currently and see how we can bring about benefits for you.
Are You a Candidate for Chiropractic Treatment?
At Kirwan Complete Care, we treat a wide variety of common ailments and issues, including:
Chronic migraines and headaches
Lower back pain
Neck and mid back pain
Sacroiliac Joint Dysfunction
Knee pain
Shoulder pain
Osteoarthritis
Scoliosis
Repetitive Strain Injury (RSI)
Ankle pain
Pregnancy-related discomfort
We do this through utilising a number of tried-and-tested chiropractic treatments and services, including Trigenics, Active Release Technique, custom exercise programs, soft tissue mobilisation, rock tape, remedial and sports massage, injury rehabilitation and dry needling.
Discover the Kirwan Complete Care Difference
If you are suffering with long standing ailments, like headaches, back pain or knee pain, chiropractic care can bring about great results in a short time frame. For people with long-term injuries, chronic joint pain or more serious sports injuries, you may need a longer time frame to allow your body to heal and repair.
Don't put up with unnecessary pain any longer; schedule a consultation with the friendly and professional Kirwan Complete Care team today!