Active Release Technique in Townsville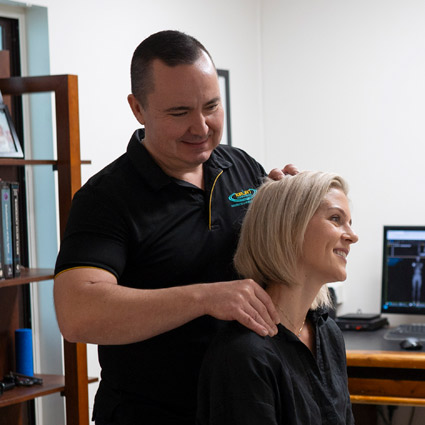 Kirwan Complete Care utilises Active Release Technique, a hands-on methodology that aims to provides pain relief through the correction of inhibited soft tissue function. Primarily used to help reduce pain and limited mobility, it can also be used by athletes to encourage injury prevention and performance enhancement.
How does it work?
After an injury occurs, scar tissue tends to build up and traps nerves, often causing tendons, ligaments, and muscles to work improperly. When this occurs, rather than moving smoothly, muscles continue to function in a rough, less systematic manner. A.R.T. specialists work to locate and break up unnecessary scar tissue by placing manual pressure on the injury site while simultaneously moving the muscle through complete range of motion.
NEW Patients »

Active Release Technique was designed for patients of all ages and activity levels. The gentle nature of the treatment can help a wide range of pains and discomforts while working to prevent further injury from taking place.
Though A.R.T. does not discriminate due to age or lifestyle, it is commonly seen throughout the athletic community. Both professional and recreational athletes use it to maintain flexibility and range of motion, as well as to prevent future injury due to constant stress. Runners and athletes that regularly suffer from throwing injuries, such as baseball and football players, especially benefit from this innovative approach to pain relief and prevention. Incorporating A.R.T. into comprehensive training regimens allows athletes increased control of the wear and tear on their bodies, which in turn enhances performance and the efficacy of other training modalities, such as strength and stretching routines.
Active Release Technique uniquely addresses problem areas, forcing the body to heal in a more structured and ordered way. Not only does it prevent accumulations of scarring in the tissue that overstress the joints, tendons, and ligaments, but it greatly reduces the risk of acute injury as well as muscular imbalance caused by chronic injuries.
A.R.T. treats several conditions, including the following:
Built up scar tissue and adhesions in muscles
Impaired range of motion
Sports or overuse injuries
Headaches
Joint conditions
Common benefits of A.R.T. include:
Rapid recovery
Pain reduction through non-invasive treatment
Injury prevention
Increased overall performance
Want to Learn More?
Does Active Release Technique sound like the right fit for you? Do not hesitate to contact our office today with any questions you might have. A.R.T. just might be the answer you have been looking for!

Active Release Technique Townsville & Kirwan QLD | (07) 4799 6797