Kinesiology – Rock Tape in Townsville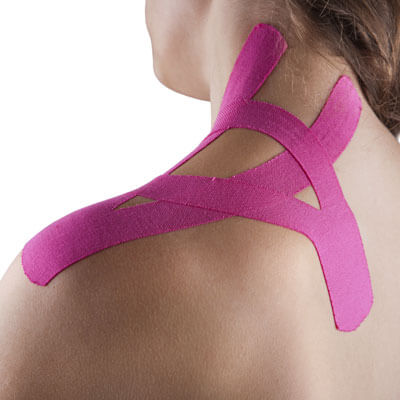 RockTape is a premium brand of kinesiology tape used by health professionals worldwide offered to treat pre-existing injuries and prevent new ones from occurring. Designed to facilitate the body's natural healing process, it provides support and stability to muscles and joints without limiting range of motion.
The Science
This therapeutic taping technique not only offers support, but it offers additional rehabilitation by targeting different receptors within the somatosensory system. By microscopically lifting the skin, RockTape allows lymphatic drainage, promoting a decrease in inflammation and, ultimately, pain. Gentle, effective, and wearable for days at a time, it is safe for children and adults alike and successfully treats several orthopedic, neuromuscular, and neurological conditions.
NEW Patients »

RockTape is durable and adaptable to your lifestyle, remaining effective for three to five days after it is applied. Conveniently, the tape is also water resistant and can be worn while showering and swimming.
As treatment is unique to each person, it is difficult to know how much tape will be needed and how frequently it will need to be applied. Naturally, some patients require a significant amount of RockTape while others benefit from the bare minimum. Rest assured, your health is our top priority and we strive to offer affordable care.
Benefits
RockTape has been known to help heal injuries such as shin splints, Plantar Fasciitis, runner's knee, and back pain. It is also commonly used to relieve sporting injuries, including pain and swelling, and promote quicker recovery time.
Kirwan Complete Care believes in affordable care that produces results. If you think RockTape could be the answer to your pain, contact our office to set up your consultation. We are happy to provide more information or clarification about this offer.

Kinesiology – Rock Tape Townsville & Kirwan QLD | (07) 4799 6797