IASTM Treatment using Myo-Bars in Townsville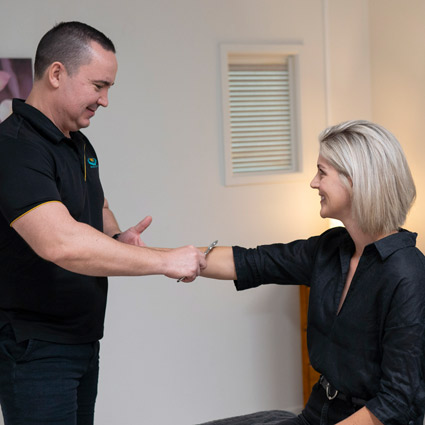 Our practice has witnessed the effectiveness of Myo-Bars or Instrument Assisted Soft Tissue Mobilisation (IASTM). This therapy uses profiled edge tools to potentiate a variety of muscle or fascial techniques. This technique employs a collection of five stainless steel tools of differing shapes and sizes, which are used to release muscle tension in order to detect and resolve adhesions. Myo-Bars treatment has been used in triathlons, NRL, AFL, CrossFit and many contact sports.
How does it work?
These tools are used by manual therapists across a variety of professions to correct soft tissue function and resolve muscle adhesion. While they do not replace the hands of a professional, they do help deliver manual therapies in a quicker fashion that creates less bodily fatigue. IASTM is often used alongside Fascial Manipulation, Active Release Technique, Trigger Point Therapy, and other soft tissue therapies.
NEW Patients »

Who can it help?
Several conditions can benefit from the use of Myo-Bars, including Achilles Tendonitis, Carpal Tunnel Syndrome, Coccydynia, Plantar Fasciitis, low back pain, tension headaches, Rotator Cuff Syndrome, and more. This technique is designed for patients of all ages, as applied pressured can be adjusted to satisfy varying comfort levels.
Visit our office for a consultation and gain more insight into whether or not it is right for you.
Find Out If Myo-Bars Are Right for You
Are you interested in learning more about Myo-Bars and how they might be effective in treating your condition? We would love to hear from you and answer any questions or address any concerns you may have. Get started today by contacting our office and scheduling your visit. We look forward to meeting you!

IASTM Treatment using Myo-Bars Townsville & Kirwan QLD | (07) 4799 6797