Chiropractic Care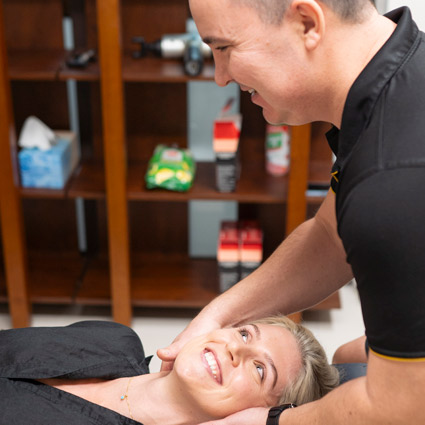 Chiropractic care is a hands-on, drug-free approach to health care, centred on the health of the brain and spinal cord—the central nervous system—as it relates to the systematic functions throughout the human body. Kirwan Complete Care is proud to provide quality care performed by leading professionals.
How We Help
The nervous system is responsible for coordinating all functions of the body. Any unwelcome pressure on parts of the system will cause interference, resulting in a lack of communication between your nervous system and the rest of the body.
Chiropractors focus on revitalising communication to decrease pain and discomfort. While adjustments may be uncomfortable for some, they're usually trouble-free and done in a timely manner. Most patients experience quick, if not immediate, relief.
NEW Patients »

Some conditions chiropractic may help with include:
Back pain
Neck pain
Headaches
Sacroiliac (SI) joint dysfunction
Extremity issues
Sports injuries
Posture
Scoliosis
Osteoarthritis
Repetitive strain injuries
Pregnancy discomfort
And more
Caring for Mum
At Kirwan Complete Care, we consider it an honour to care for pregnant women. While pregnancy can be a beautiful time in a woman's life, there's often some discomfort that goes along with that. The growing baby changes her centre of gravity, affecting how she stands and walks, putting pressure on joints and ligaments.
We offer gentle care appropriate to the stage of pregnancy. We have maternity pillows for Mum's comfort and customise our care to help her remain pain-free and relaxed throughout. The earlier you start therapeutic care, the better. Our mums tell us they have less pain during labour and deliver faster than without chiropractic care.
Ready to Make a Booking?
Contact our office to learn more about our quality care and become a patient today!
CONTACT US »

Chiropractic Care | (07) 4799 6797